Cross Connections
Introduction
The Regional District's purpose is to ensure the continued delivery of reliable and safe drinking water to its consumers at all times. To accomplish our purpose, the Regional District has developed a cross-connection program that aligns with the Interior Health Authority requirements. The cross-connection program ensures the integrity of the public water supply by recognizing that the dangers of cross-connection and backflow are addressed. This is accomplished by the creation of policy that stipulates the elimination or control of cross-connections, actual or potential, by installation of the appropriate and approved backflow prevention device(s) where required, the installation and testing of the backflow device(s), and future maintenance requirements of said devices. The cross-connection program's management software database will allow the Regional District to track all installed and testable backflow devices through out the district and ensure they are tested at the required intervals by certified backflow testers. Every water purveyor faces the possibility and risk of contamination of the public water supply. Controlling contamination from cross-connections can be achieved by the adaptation of established industry standards and techniques. In British Columbia for example, although the B.C. Building Code, Part 7, Plumbing Services has specified the need for cross-connection control devices for years, it has only recently become a regulatory requirement that these devices be installed and tested regularly.
The Province of British Columbia Interior Health Agency (IHA), in February 2003 has required that all water purveyors develop and implement a cross-connection and backflow prevention program as a mandatory condition of their Permit of Operation. This directly affects the Regional District of Okanagan-Similkameen (RDOS) by requiring us to implement a cross-connection program for all our water systems.
What is a Cross Connection?
The term cross-connection may not mean much to the average person, but it strikes a resonating chord with the water purveyor because the existence of such a connection means that the integrity of the public water supply is at risk. A cross-connection, as defined by the American Water Works Agency (AWWA) is "a connection or a potential connection between any part of a potable water system and any other environment containing other substances in a manner that, under any circumstances, would allow such substances to enter the potable water system. Other substances may be gases, liquids, or solids such as chemicals, waste products, steam, water from other sources (potable or non-potable), or any matter that may change the color or add odour to the water."1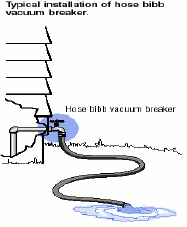 Where are Cross Connections Found?
Whenever a plumbing fixture is connected to the potable water supply, a potential cross connection exists. Fortunately, many of the plumbing fixtures have built-in backflow protection. Listed below are cross connections commonly found in water systems:
Wash basins and service sinks
Hose bibs
Irrigation sprinkler systems
Auxiliary water supplies
Laboratory and aspirator equipment
Processing tanks
Boilers
Water recirculation systems
Swimming pools
Solar heat systems
Fire sprinkler systems
As you can see, every water system has cross connections. For more information on how to help protect your water supply please contact the Regional District of Okanagan-Similkameen Utilities Department at 250-490-4135. Thank you.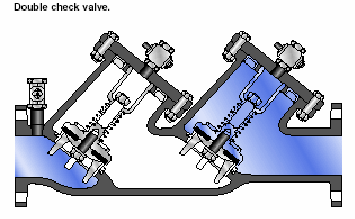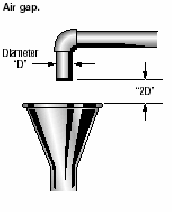 1 See AWWA M14, Glossary, pp 118, Recommended Practice for Backflow Prevention and Cross-Connection Control, Second Edition, 1990, Denver USA, with addendum M14a-92, July 30, 1992.