Peach Twig Borer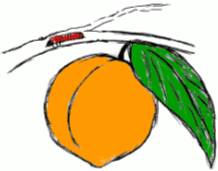 To protect the commercial fruit industry in the South Okanagan and Similkameen, the R.D.O.S. has a new bylaw in place, Bylaw 2070, 2001, to ensure better control of fruit tree pests in Areas A,B,C,D,E,F,G and the Town of Oliver.
Peach and Apricot tree owners are responsible for controlling pests such as the Peach Twig Borer on their properties to prevent them from severely affecting nearby neighbours and professional growers.
The summer generation of Peach Twig Borer larvae are present in late June-July, up to 12mm long, reddish-brown, and have a ringed appearance. These caterpillars attack ripening peaches and apricots, creating holes and furrows at the stem end.
To manage Peach Twig Borer the Provincial Ministry of Agriculture recommends the following:
"Watch for wilted shoots and destroy any larvae present. If the pest was a problem the previous year, apply carbaryl or diazinon at label rate at pink and husk fall stages. Place infested fruits in a sealed plastic bag for disposal or put them in the freezer for a few days to kill them before placing in the compost."
If any peach or apricot tree owners are not comfortable spraying according to the Ministry recommendations the RDOS asks that they at least do the following:
In the spring, remove twigs and shoots that are wilting and contain the reddish twig borers.
In the summer, remove all visible larvae from twigs and remove infested fruits for disposal.
Prune hard-to-check branches to ensure better twig borer control.
To inform RDOS Pest Control staff of peach or apricot trees that seem to be neglected, diseased or growing wild, please call (250) 490-4147 or toll free 1-877-610-3737.