Cemetery
The RDOS is responsible for the administration and operation of the Naramata Cemetery, located at 3315 Bartlett Road in Naramata. This cemetery is open to the public and has no denominational restrictions or other requirements.
The Naramata Cemetery Bylaw outlines the operation and management of the grounds, in accordance with the Cremation, Interment and Funeral Services Act. Groundskeeping and interments are managed by the Regional District.
Plot reservation must be secured through the Plot Reservation License (Right of Interment Form).
Our Naramata Cemetery Map provides detailed information on available plots, occupied plots and reserved plots.
Burial Options and Grave Site Etiquette
The Naramata Cemetery offers burial plots, cremation plots and a scattering garden. Memorial markers are not available through the Regional District, although they are placed by the RDOS for a fee.
While visitors are welcome to adorn grave sites with flowers and other small decorative items, no other improvements are permitted on grave sites or other cemetery facilities. Items left at grave sites will be removed by RDOS staff when their condition becomes detrimental to the general appearance of the Cemetery.
Tranquility Scattering Garden
The Tranquility Garden within the Naramata Cemetery provides an opportunity to scatter cremated remains in a natural setting with pathways, benches and a reflection space, in a naturally landscaped section of the grounds.
A memorial monument has been set up in the garden for those that may wish to install a bronze plaque to commemorate their loved one. Plaques must be ordered and installed by the RDOS.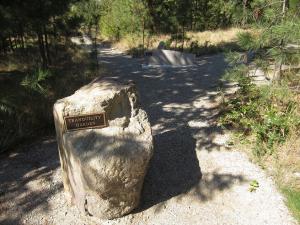 Hours of Operation and Contact Information
The cemetery grounds are open to visitors during daylight hours. Staff can be reached between the hours of 8:30 am and 4:30 pm, Monday to Friday at 250-492-0237 or info@rdos.bc.ca.