Western Cherry Fruit Fly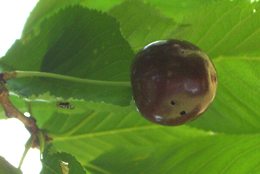 To protect the commercial fruit industry in the South Okanagan and Similkameen, the R.D.O.S. has a new bylaw in place, Bylaw 2070, 2001, to ensure better control of fruit tree pests in Areas A,B,C,D,E,F,G and the Town of Oliver.
Cherry tree owners are responsible for controlling pests such as the Western Cherry Fruit Fly on their properties to prevent them from severely affecting nearby neighbours and professional cherry growers.
Complete control of Cherry Fruit Fly using sprays can be difficult and ineffective for non-commercial growers. Therefore, cherry tree owners should control these flies using other acceptable control methods.
Acceptable pest control methods are:
Strip trees of all cherries as soon as they are ripe.
Ensure no cherries are left on the ground.
Prune hard-to-pick branches to a manageable height.
Removal of all cherries will ensure that the white Cherry Fruit Fly maggots contained within the cherries are removed before they can burrow out and fall to the ground. This will prevent them from maturing to hatch as adult fruit flies the next year.
To inform RDOS Pest Control staff of cherry trees that aren't being sprayed or picked before their Cherry Fruit Fly maggots escape--please call (250) 490-4110 or toll free 1-877-610-3737.