Kenny McLean Tribute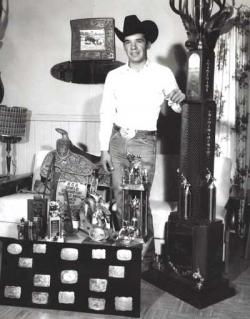 Kenny McLean photo compliments of "Okanagan Archive Trust Society"
Kenny McLean was born May 17, 1939 in Penticton and resided in Okanagan Falls. He started breaking colts for his dad when he was just 12 years old and went on to rodeo competitions at the age of 17. He won 14 Canadian Championships and in 1962 was the World Saddle Bronc Champion He was inducted into the Canadian Rodeo Cowboy Hall of Fame and was the only rodeo cowboy to be inducted in the BC Sports Hall of Fame. He also receive Canada's' highest honor, the Order of Canada, again the only cowboy to receive such an honor. During his life he sponsored and ran rodeo schools, particularly for the young, training many future champions and many champions returned time after time to improve their skills at the sport. He encouraged young competitor's right up until he passed away on July 13, 2002.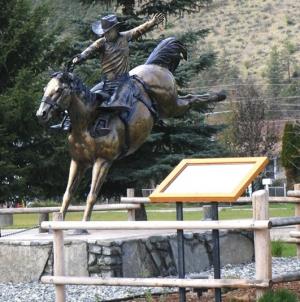 The Kenny McLean project Committee has received approval from Centennial Park in Okanagan Falls, BC, to proudly install a life-size bronze sculpture of OK Fall's very own rodeo champion, Kenny McLean. The bronze sculpture is estimated to be 18' high once complete.
This project was funded in part by a grant from the Community Foundation of the South Okanagan.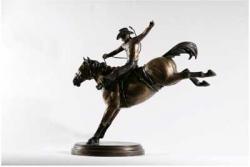 To order your very own limited edition bronze, please contact The Regional District Okanagan Similkameen, 101 Martin Street, Penticton, BC V2A 5J9 250-492-0237 email info@rdos.bc.ca.