Similkameen - Keremeos - Areas B, G

Cawston, Keremeos Rural, Hedley
Ice Skating
Visit our Skating  page for the latest updates involving public skating, lessons and more.
Swimming (Closed for the Season)
Similkameen Community Pool is now closed for the season.
Visit our Swimming page for the latest updates.
Office Hours for the Similkameen Recreation Centre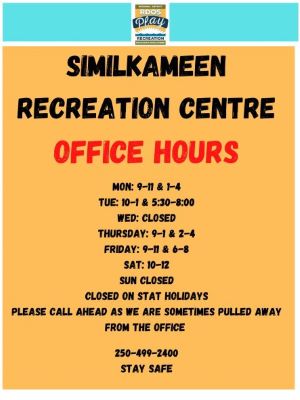 BC Restart Plan
BC's Restart is a careful, four-step plan to bring B.C. back together. Starting May 25, we can gradually begin to restart our important social connections, businesses and activities 
The RDOS would like the community to Stay Safe, Stay Connected and Stay Active. As the RDOS continues to monitor and adapt to guidelines associated with COVID measures, Parks and Recreation services are being reviewed and a re-opening plan has been developed.
Click this button to see more: