Okanagan Falls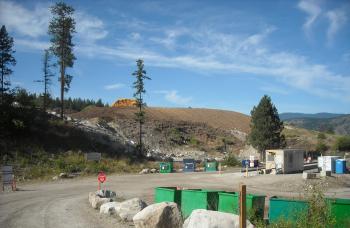 Hours of Operation
OPEN Monday through Friday: 10:00 am - 1:45 pm
SEASONALLY OPEN Saturdays:  10:00 am - 1:45 pm March to End of November
CLOSED - Saturdays in December, January and February, Sundays, All Statutory Holidays and Boxing Day.
Fees and Charges
Visa, Mastercard, Debit (Bank) Cards and Cash accepted. 
Disposal information: Asbestos, Demolition, Burned Structures, Lead Paint, New Construction - click here
Restrictions
The Okanagan Falls Sanitary Landfill specializes in Demolition and Construction Waste recycling.
The Okanagan Falls Landfill no longer accepts regular household or business garbage or residential recycling. Residents and businesses should take garbage containing food waste or fruit to the Campbell Mountain Sanitary Landfill. Check in Fees and Charges above for what materials can be accepted.
Location
3751 Allendale Lake Road, Okanagan Falls B.C.  Click here to view online map.
Contact
E-mail: info@rdos.bc.ca
Phone: 250-497-7942 During open hours
For more information contact 250-490-4129 or toll free 1-877-610-3737
Before you go
Remember to tarp all loads or fees will be doubled.
Save money if your loads contain separated materials. Check Fees and Charges for items that can be recycled and what items are not allowed in the landfill.
The Okanagan Falls Landfill cannot accept food waste or bagged household garbage. These materials should go to the Campbell Mountain Landfill.