Environmental Education Programs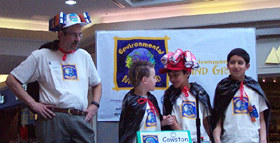 Whether you are a student or an educator, a member of a service group or are active in the business community, we offer comprehensive environmental education programs designed to suit your group's needs.
For more information on our various education programs, please contact the Solid Waste Management Department, at 250-492-0237, toll-free 1-877-610-3737 or email info@rdos.bc.ca.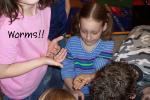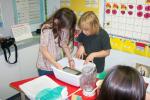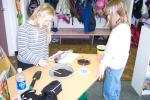 Free Classroom Based Workshops
Chuck It Out Challenge (Lunch Waste Audit)
Students will analyze their lunches to determine how much garbage they have and then problem solve ways in which they could decrease the amount of waste. Students will learn about the 3 R's, what recycled materials are made into and participate in a fun math based contest. With prior notice this session can easily be adapted for schools with successful hot lunch programs.
Location: Classroom Suitability: Grades 4 to 8
Estimated Time: 50 minutes
Eat Dirt! (Worm Composting)
Composting comes to the classroom with an interactive worm composting program. Students learn about the composting process, why it is important, characteristics of red wrigglers and the relationship between worms and soil.
Location: Classroom Suitability: Grades 1 to 8
Estimated Time: 30 to 50 minutes
Paper Making (For K-2)
Learn how paper is recycled by making it yourself! This is a fun activity highlighting reuse, recycling and creativity. Wet and wild; this is a great session for parent volunteers to come in and help.
Location: Classroom Suitability: Grades Kindergarten to 2
Estimated Time: 80 minutes
Where Does All The Garbage Go? (Landfill Tour)
Have you ever wondered what happens to your garbage after it leaves the curb? Do you know why it's important to recycle? Did you know that there are more than twenty different types of materials recycled at local Landfills? Book your bus and the Regional District of Okanagan-Similkameen will provide a tour guide who will lead you and your group on an exploration of the landfill, where all will be revealed.
Location: Field Trip Suitability: Grades 3 to 12
Estimated Time: 55 minutes
Geography 12 – Resources and Environmental Sustainability
A teacher directed session to provide local context for the socio-cultural, economic and political consequences of waste management in the RDOS. Teachers can direct the scope and content of this presentation. A Landfill Tour (see above) can also be incorporated.
Other Teacher Directed Programs
The RDOS provides free specific programs upon request for any grade level or school. Some examples include:
Talks to 'green teams' and parent advisory groups on composting and recycling
Helping establish school composting and recycling programs
Assisting in conducting school wide waste audits
Providing materials and free disposal for community clean-ups
Local tours of community gardens and composting sites
For more information or to register your school or class for one or more of these sessions please contact the Regional District of Okanagan-Similkameen at 250-490-4203, toll free 1-877-610-3737 ext. 4203 or e-mail info@rdos.bc.ca.