Household Hazardous Waste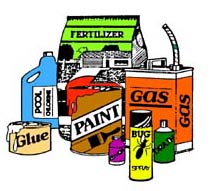 Where Do I Take Household Hazardous Waste?
Household Hazardous Waste (HHW) consists of products that can harm people, animals and the environment if they are improperly disposed of. These products can be poisonous, corrosive, flammable or be linked to cancer or other health issues.
The Regional District of Okanagan-Similkameen has set up a one stop Household Hazardous Waste Facility at the Campbell Mountain Sanitary Landfill. This facility can only accept materials from 8:30 am to 4 pm on days the landfill is open. This facility will take all Household Hazardous Waste free of charge from residents living in Penticton, rural Penticton, Okanagan Falls and the Lower Similkameen.
Select materials (such as paint, used oil, batteries and mercury containing items) can be recycled at private businesses across the RDOS. Visit our Recycle Page for links to information on where materials can be properly reused, recycled or safely disposed of locally.
To download a copy of the Recycling Council of British Columbia's Toxic Toolkit for safer cleaning options.
Identifying Household Hazardous Waste
Items identified as Household Hazardous Waste should be treated carefully and brought safely to the HHW depot. Please note only residential products in residential quantities can be accepted. See below for more information on what cannot be accepted.
Common Household Hazardous Waste Examples:
| | | | | |
| --- | --- | --- | --- | --- |
| Roofing Tar | Paint (latex & oil based) | Aerosols | Compressed Gas Containers | Fuel |
| Adhesives | Pesticides | Fertilizer | Corrosive Materials | Oil |
| Glass Cleaner | Drain Cleaner | Sealers | Caustics | Acids |
| Batteries | Pool Chemicals | Strippers | Fluorescent light tubes | Ballasts |
Many, but not all, Household Hazardous Waste Items have the following symbols:

What Isn't Household Hazardous Waste?
The Campbell Mountain Landfill Household Hazardous Waste facility does not take certain types of items from residents.
These include:
| | | |
| --- | --- | --- |
| Explosives | Munitions | Flares |
| Radioactive materials | Bio-Hazardous Waste | Industrial or Commercial Waste |
The HHW Facility does not take any waste from commercial sources. Commercial enterprises can contact the Regional District Solid Waste Department for information on Hazardous Waste Disposal. The HHW Facility will not accept materials in commercial sized containers such as industrial sized paint cans or large metal drums. For acceptable container size information for specific products please contact RDOS Solid Waste at 250-490-4129 or info@rdos.bc.ca.
Other Hazardous or Controlled items are accepted by the Campbell Mountain Landfill but have applicable tipping fees. Please click here for more information.