Sustainable Similkameen Project
Final Report!
The Final Report of the Sustainable Similkameen Project has been completed and can be accessed here:
The Project
Communities working together can help in their futures. The Sustainable Similkameen Project aims to encourage working together for the overall benefit of the valley while at the same time celebrating the diversity of the valley.
For the first time, residents of the valley, from Princeton to Chopaka, have joined together to plan for a Sustainable Similkameen Valley.
This unique project was instigated by the Similkameen Valley Planning Society and will run from September 2009 to March 2010.
Seventeen panel members for the Sustainable Similkameen Project range in age from high school students to seniors and represent a cross-section of the whole valley. Between them, they have experience in agriculture, arts/culture, business (small/service/manufacturing/processing), education, employment/economics, environment/conservation, First Nations, forestry, health care, history/archaeology, infrastructure (servicing/communication/utilities), marketing, media, politics/governance, recreation/trails, safety (police/fire/ambulance), science, seniors, spirituality, tourism, transportation, youth.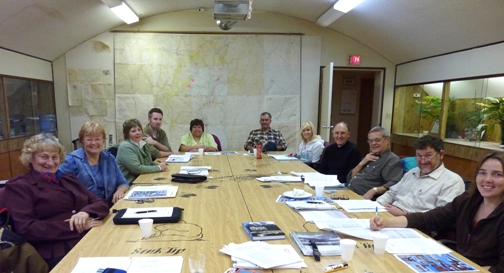 Mission Statement:
To establish a socio-cultural, economic and environmental sustainability1 strategy for the Similkameen Valley2 that will maintain and enhance the quality of our rural and small town lifestyle.
Mission Objectives:
1. Celebrate the socio-cultural and bio-physical diversity of our Valley.
2. Protect our Valley's water, land, air quality and biodiversity3.
3. Promote a diverse Valley economy with multiple opportunities.
4. Maintain a physically, culturally and spiritually healthy Similkameen Valley.
5. Propose a means to implement, monitor and evaluate our Valley's sustainability strategy.
6. Increase the participation of Similkameen Valley residents in achieving this mission.
Mission Notes:
1. "Sustainability": "improving the quality of human life while living within the carrying capacity of supporting eco-system" (UNDP/IUCN/WWF 1991). This indicates an interdependent, systemic relationship among the three dimensions of sustainability -- environmental, social and economic, one in which "The economy is in the first instance, a subsystem of human society ... which is itself in the second instance a subsystem of the totality of life on Earth (the biosphere). And no subsystem can expand beyond the capacity of the total system of which it is a part" (Porritt, 2006).
2. "Similkameen Valley": The Similkameen Valley River watershed, including the communities and the surrounding areas of Allison Lake, Apex, Ashnola, Bankier, Cawston, Chopaka, Coalmont, Crown Land, East Gate, Hedley, Keremeos, Lower Similkameen Indian Band, Manning Park, Missezula, Nighthawk, Olalla, Princeton, Tulameen, Upper Similkameen Indian Band
3. "Biodiversity": the variety of life in all its forms, which includes the diversity of ecosystems, species and genes and the natural processes that link them (Biodiversity BC, 2008).
The Consultants
The Similkameen Valley Planning Society has hired consultants Dr. Laurence A. G. Moss and Dr. Romella S. Glorioso to facilitative the planning process. Dr. Moss is a globally respected specialist in strategic planning, urbanisation & regional planning, amenity migration & tourism planning and cultural change analysis. A Western Canadian, he has lived and worked principally in western North America, Pacific Asia and central Europe, assisting local communities and regional, national and international bodies in some 25 countries.
Dr.Glorioso has 2 decades of experience in sustaining especially rural communities and their ecological systems under pressure from global change. She has worked in a number of countries, including Canada, USA and Czech Republic, specializing in public strategic planning focused on landscape ecology, human settlement development and GIS applications for decision-making.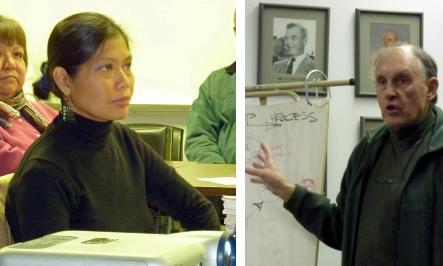 Planning Resource Team
A planning resources team will be helping with the project. This team comprises three members: Bryn White (South Okanagan Similkameen Conservation Program); Susanne Theurer (Fraser Basin Planning Council); and Christopher Garrish (Regional District Okanagan-Similkameen).
Sustainable Similkameen Steering Committee
The Steering Committee includes George Hanson (Chair), Area Director, Electoral Area 'B'; Walter Despot, Mayor of Keremeos; Bryn White, South Okanagan Similkameen Conservation Program; Carrie Terbasket, Lower Similkameen Indian Band; Marilyn Harkness, Princeton Councillor; and Brad Hope, Area Director, Electoral Area Area 'H'.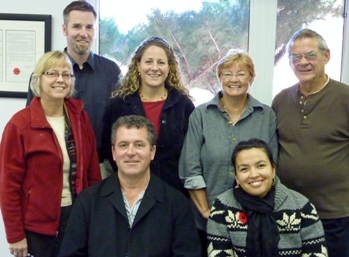 Sustainable Similkameen Community Liaison/Project Manager
The Project Manager and Community Liaison for this project is Melanie Bagley.
Sponsor
This project is being sponsored by the Similkameen Valley Planning Society (SVPS), a unique partnership that includes the municipalities of Keremeos and Princeton, the Lower Similkameen Indian Band, the Upper Similkameen Indian Band and Electoral Areas 'B', 'G' and 'H' of the Regional District of Okanagan-Similkameen. Funding for our project has been very kindly provided by the BC Real Estate Foundation, the RDOS, and towns of Keremeos and Princeton.
Meetings:
PANEL MEETINGS
Panel Session #4a: December 9, 2009 (7:00 - 8:30 PM)
Location: Riverside Centre, Princeton
Tasks: present alternative scenarios and choose most likely scenario.
Panel Session #4b: December 10, 2009 (7:00 - 8:30 PM)
Location: Riverside Centre, Princeton
Tasks: review progress on Internal Analysis (w/ panel IA group and Project Resource Team).
Panel Session #5: January 30, 2010 (9:00AM - 3:00 PM)
Location: Village Office, Keremeos
Tasks: review Internal Analysis findings and finalize IA information & assessments (w/ IA panel and Project Resource Team).
Panel Session #6: February 27, 2010 (9:00 AM - 3:00 PM)
Location: Riverside Centre, Princeton
Tasks: finalize SWOT analysis and identify strategy thrusts (w/ full panel).
Panel Session #7: March 20, 2010 (7:00 - 8:30 PM)
Location: Village Office, Keremeos
Tasks: present draft strategy to Similkameen Valley public.
PUBLIC MEETINGS (Information Flyer)
December 7, 2009 (7:00 - 8:30 PM)
Location: Victory Hall, Keremeos
December 9, 2009 (7:00 - 8:30 PM)
Location: Riverside Centre, Princeton
March 20, 2010 (7:00 - 8:30 PM)
Location: Victory Hall, Keremeos - Information Flyer
Presentation: Sustainable Similkameen - Draft Strategy Presentation