Landfill links and Curbside Collection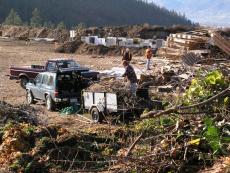 RDOS Sanitary Landfills
Curbside Collection Garbage, Recycling and Yard Waste
The RDOS provides

Curbside Garbage and Recycling collection

to the majority of rural homes in the Regional District and the Village of Keremeos.             

To sign up for weekly curbside reminders and curbside alerts, select the calendar icon below and enter your address.  When your address appears, click Get a Reminder. 

Not sure what goes where, click on the wizard icon, or see Recycling Council of BC     
During winter months, when roads are not plowed or are not sufficiently sanded, the curbside truck may not be able to collect -  see Curbside - Missed Collection.
Other Major Public Programs
Solid Waste Department Contact Information
Please contact the Solid Waste Department for any questions on waste reduction or disposal:
e-mail: info@rdos.bc.ca
phone: 250-490-4129
toll free: 1-877-610-3737 ext. 4129