WildSafe BC - Bear Aware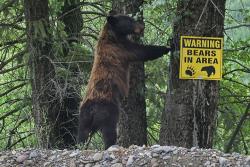 Every year in British Columbia between 8 & 800 bears are destroyed!
Garbage, bird feeders and tree fruits can attract bears to your yard, family and neighbourhood.  Once a bear becomes used to human food sources it becomes habituated, usually resulting in the bear being destroyed. It is important to keep wildlife wlld and communities safe.
Report all conflicts with wildlife, poachers, and polluters to the BC Conservation Officer Reporting Line 1-877-952-7277.
WildSafeBC Year End Report and Statistics
Each year, the RDOS WildSafeBC program prepares an annual report. The report outlines all outreach activities undertaken for the year, and basic statistics on wildlife activity in the region. 
Bear Aware Tips
Look for these bear attractants on your property:
Garbage - the biggest attractant for bears in our communities is garbage. Properly secure your garbage, and keep it indoors until pick-up, or until you can bring it to your local landfill.
Compost- use finished compost, leaves, grass or wood chips to cover up fruit or other food waste in your composter. Properly care for your compost by turning it and layering it appropriately to reduce odours. Click here for tips on proper composting.
Fruit trees and Grapes- make sure to harvest fruit immediately. Remove all windfall fruit. If you own an orchard, electric fencing is encouraged. Contact the RDOS or check the phone book for electric fence contractors in our area.
Pet food, Birdfeeders and Gardens are all attractants for bears. Keep your pet food securely stored indoors. Bring your birdfeeders in for the summer, supplementing them with natural flowers and birdbaths. Electric fencing is recommended to keep agriculture safe.
Barbeques- everyone loves the smell of a good barbeque, bears included! To keep your barbeques safe, make sure that they are properly cleaned, covered and don't leave utensils out overnight.
Naramata Receives Bear Smart Status in June 2014 - A Good News Story
Naramata is the 6th Community in BC to achieve and be awarded the prestigious designation of Bear Smart Status by BC's Ministry of  Environment.
Naramata is situated on the shores of Lake Okanagan in a largely agricultural community with a village core that straddles a Kokanee Salmon bearing creek, putting it right in the middle of prime bear habitat. The population of just over 2400 also is a tourist mecca, receiving thousands of guests each summer to enjoy the relaxed pace, beautiful beaches and abundant accommodation opportunities. Naramata's location and level of bear awareness made it a hot spot for Conservation Officer bear complaint calls. On an average, 6 to7 bears were destroyed each year in that community as they became habituated to humans and their waste.
 In 2010, the Electoral Area Director became so concerned about these escalating issues that the Bear Aware Program was initiated to help residents understand the correlation to attractants and bear issues. Over the next three years, RDOS Bear Aware (now WildSafeBC) worked closely with residents, commercial, agricultural entities and the school to reduce the incidence of wildlife conflict in the area. The Regional District changed its garbage pick-up day to better align with Bear Smart principles and imposed a Bylaw which restricts residents to placing garbage to the curb on the morning of the day of pick-up only. The local waste contractor provided the option to obtain bear proof garbage containers – starting with a free three-month pilot program. The WildSafeBC Community Coordinator worked through all 6 criteria http://www.env.gov.bc.ca/wld/bearsmart/#second_ for bear smart status, submitting the application reports and documents required. BC Ministry of Environment Wildlife Conflict Manager reviewed all documentation, conducted an independent, undisclosed audit in the community and then made recommendations to senior government officials for their decision.
On June 23rd 2014, at a well-attended community celebration, Naramata was awarded Bear Smart Status By the Ministry of Environment and the Conservation Officer Service. Federal, Provincial and local government politicians along with many on and off-duty Conservation Officers from across the Interior came to show their support for the efforts made by the community to achieve Bear Smart status. They congratulated and encouraged the community to continue its commitment to attractant management to maintain the status over time.
 Photos of Bear Smart Celebration
1- Dignitaries with Naramata Elementary students showing off their hand carved soapstone bears
2- RDOS WildSafeBC Coordinator Zoe Kirk with Chief of BC CO Service Doug Forsdick (on her left) and representatives from the CO Service
3- RDOS WildSafeBC Coordinator Zoe Kirk with MP Dan Albas
4- MP Dan Albas and MLA Dan Ashton congratulating a student on her bear sculpture
5- Bear proof garbage cans full of stuffed bears
Bear Smart signage is now posted throughout the community, starting with the single road entrance to the community and in all parks and public spaces. The school children are big Bear Smart enthusiast and actively promote their knowledge and understanding about the wildlife with which they share their ecosystem.
The Bear Smart/WildSafeBC program began seeing immediate results starting right from 2012 – with calls to the Conservation Officer Reporting Line declining, and lack of the need to destroy any bears in that community. In fact, since 2012, only 2 unthrifty bears have been destroyed. Are there fewer bears? No. Residents have learned how to protect their community through attractant management, understanding bear behaviors and drivers and modifying their actions accordingly. Bear Smart is not just a one day celebration, but an ongoing commitment that is monitored by the Ministry of Environment. If things change and residents become complacent about attractants, the status can be revoked. Naramata is an inspiration. Residents have demonstrated what a community can achieve when they work together. For documentation and application details:
1. Action Item Matrix Appendix 2
2. Bear Smart Application Sept 2013 F
3. Naramata Bear Hazard Assessment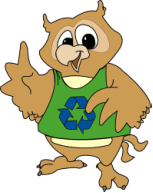 Bear Smart Curbside Collection - Electoral Areas 'D','E','F'
Due to concerns with bears and other wildlife, residents within Electoral Area 'D' (OK Falls, Kaleden, Twin Lakes), Electoral Area 'E' (Naramata, Falconridge) and Area 'F' (West Bench, Red Wing) may not place unprotected garbage out overnight. Residents in these areas can choose to:
place out garbage after 5 am on your regular collection day;
place out garbage in a wildlife resistant container;
place out garbage in a wildlife resistant enclosure.