Electoral Area E OCP Bylaw Review
Overview
An Official Community Plan (OCP) is the vision a community has for its future. It contains goals and policies that will shape future land use in a way that reflects the community's vision. These goals and policies form a framework used by the Regional Board, Regional District staff, other agencies and the community to guide their decisions about future land use.
The Regional District is reviewing the Electoral Area E (Naramata) OCP Bylaw in accordance with the Local Government Act, which specifies purpose, required content, and adoption procedures of an OCP Bylaw. 
The current OCP was originally adopted in 2006 and subsequently repealed and replaced in 2008 as part of a larger review of Regional District land use bylaws (NOTE: this process did not result in any substantive changes to the original OCP).
The review process started in fall 2021 and is expected to be completed by Fall of 2023.
To follow along with this project, visit Regional Connections where you will find survey links, documents, event invitations, and more.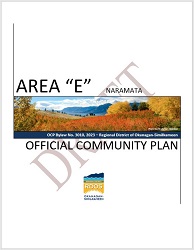 Draft Official Community Plan (OCP) Bylaw No. 3010
Comparison Tables (Current vs Proposed OCP Bylaws)
To show how Draft Official Community Plan Bylaw No. 3010 differs from the current Official Community Plan Bylaw No. 2458, 2008, the following Comparison Tables have been prepared:
[Check back soon]
RDOS Board Consideration
P&D Committee
1st & 2nd Reading
Public Hearing
3rd Reading & Adoption

Date: Thursday June 1, 2023

Time: 9:00 a.m.

Location: RDOS Boardroom

Video:

 

PowerPoint Presentation

Minutes

Date: Thursday September 7, 2023

Time: 9:00 a.m.

Location: RDOS Boardroom

Video: TBD

 

OCP Bylaw No. 3010, 2023

Minutes

Date: TBD

Time: TBD

Location: TBD

Notice of Public Hearing

Feedback Form

 

Public Hearing Report

Representations

Date: TBD

Time: TBD

Location: TBD

Administrative Report

OCP Bylaw No. 3010, 2023

Representations

Minutes