Faulder Water System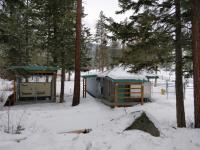 Engineering Projects and Updates:
The Regional District completed the upgrades to the Faulder Water System.  A new well was drilled and the uranium treatment System was installed and commissioned.  A back up generator was also included to keep the water system working in case of power outages.
The Regional District completed 6 months of testing on the new system and on July 31, 2017 the Water Quality Advisory was lifted. The water now meets  the Health Canada Guidelines for Canadian Drinking Water Quality for uranium.
In 2022, the RDOS commissioned a technical review of the Meadow Valley Aquifer(#299). This review included an analysis of the recharge and capacity of Aquifer #299 as it relates to the Faulder Water system and it's capacity to serve current users and potential new connections. Special consideration was taken when calculating capacity to include changes in residential usage and the effects of climate change. The following is the final report that was submitted to the Board in August of this year, see below to view report and presentation.
Reports and Newsletters:
August 2022 Report - Meadow Valley Aquifer Study 
August 3, 2022 PowerPoint Presentation - Meadow Valley Aquifer Study 
February 4, 2016 Brochure - Protecting Faulder's Community Water Supply
February 2, 2016 Information Meeting – Completion of the Faulder Water System Upgrades
    Presentations from February 2, 2016 meeting:
    Regional District Presentation – Information Meeting
    Ecora Engineering Presentation – Faulder Community Water Conservation Plan
    Golder Associates Presentation – Drilling and Testing of Faulder Well 2
December 15, 2015 Update Keeping the Region Informed
October 28, 2014 Faulder Well Level Measurements
December 18, 2013 Well Aquifer Assessment and Options Evaluation
June 6, 2013 Water Update Informing the Community
November 5, 2008 Newsletter – Key Issues facing the Water System Users
August 6, 2008 Report – Groundwater Provenance and Water Level Assessment
April 21, 2008 – Technical Memorandum – Water Supply Capacity Review