Compost Bin Sale and Workshops
Compost Bin Pre-Sale March 1st to 25th, 2021
Pre-purchase a Compost Bin ($49.50 plus tax) from March 1st to March 25th at participating locations. Bins will then be available for collection by Earth Day, April 22nd at the purchase location.
Click here for the brochure The 5 Easy Steps to Composting 
Click here for the video 5 Easy Steps to Composting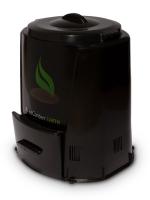 Pre-Purchase Locations
Pre-purchase the FreeGarden Earth Compost Bin at one of the following locations during regular business hours from March 1st to 25th. Bins would be available for collect by April 22nd, Earth Day, at the location of purchase:
Workshops - Recycling, Worm Composting and Backyard Composting
Links will take you to the RDOS Webex Events Page. This page lists all RDOS online events. Register to the event(s) you wish to attend to receive e-mail updates and resources.
| Workshops | 2021 Dates |
| --- | --- |
| | March 15th, 7 pm |
| | March  22nd, 7 pm |
| | March 23rd, 7 pm |
| | March 25th, 7 pm |